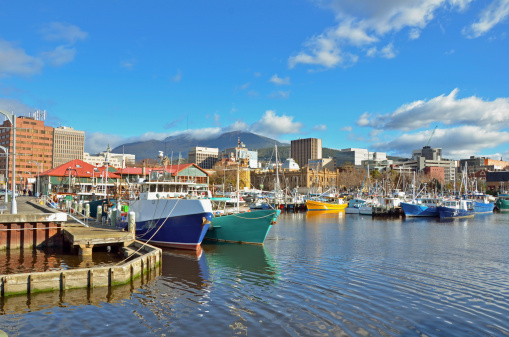 A Tale of Four Cities
Swain Destinations president Ian Swain reveals Australia's fascinating urban offerings, including tasting Grange Hermitage in Adelaide, shopping Tasmania's Salamanca Market, floating in a hot air balloon suspended over Perth or tasting the rich cuisine of Melbourne.

For many travelers, Australia looms large as a nexus of spectacular scenery and once-in-a-lifetime experiences in quintessential natural settings like the outback and reef. Insiders, however, know that its cities, with their sophisticated modern style and luxurious hideaways, prove equally enticing. We asked Ian Swain, an Aussie native and President of Swain Destinations â?? a travel company providing customized vacations to exotic, far-flung destinations across the globe â?? to personally share his insider tips for maximizing your visit to these iconic Australian cities.
Growing up in rural Australia I was always fascinated with Sydneyâ??s metropolitan allure. For me, it was the center of the Universe. When I started Swain Destinations nearly 30 years ago, Sydney certainly was Australiaâ??s icon â?? and to a certain extent, it remains the global ambassador of Australiaâ??s laid-back culture to this day. Sydneyâ??s world-class beaches, gastronomy, fashion and arts scene make it an itinerary essential. Nevertheless, to capture an all-encompassing perspective on Down Under culture, you should set your sights on seeing other city skylines as well. Four unforgettable urban centers Hobart, Adelaide, Melbourne and Perth dot the stunning natural landscape and provide endless options for contemporary pursuits.
HOBART, TASMANIA
Tasmania flies under the radar for many, but travel trendsetters know this exquisite island stateâ??s stunning scenery, delectable cuisine and world-renowned Pinot Noirs â?? my personal favorite â?? make it a must-see destination. Hobart, the islandâ??s capital, has a uniquely European feel thatâ??s both charming and elegant, while the areas outside of the city are rich with opportunities for adventure.
When Iâ??m in Hobart, I frequent the Museum of Old and New Art (MONA). This cutting-edge art experience opened three years ago, showcasing collections of the same caliber as the Getty, Barnes and The Met museums. We love to plan after-hours private tours for our travelers, providing access to behind-the-scenes exhibits and rare works not available to the public. The art continues at the museumâ??s restaurant, The Source. The chef, Philippe Leban, is a friend and has impressed diners at a gamut of Michelin-starred restaurants. I like to dine at the chefâ??s table replete with personalized menus and wine pairings â?? the sommelier always expertly recommends wines to best enhance the flavors of the local ingredients.
On Saturdays, in the heart of Hobartâ??s waterfront area, the outdoor Salamanca Market peppers the sidewalks with umbrella tables, fresh produce and colorful wares. Follow the wafting scent of handmade roasted sausages and warm scallop pie, two of Hobartâ??s famous delicacies. Thereâ??s no better way to experience this weekly event than with a private guide who provides insight on everything from one-of-a-kind jewelry and art pieces to hand-blown glass. Hidden inside the breathtaking historic sandstone warehouses, which serve as the backdrop for this outdoor affair, youâ??ll discover exclusive, off-the-beaten-path galleries and designers.
Itâ??s always a treat to stroll the bustling waterfront where you can see lapping waves and feel a gentle sea breeze off the cove. Wend your way through the markets to the Elizabeth Street Pier for an al fresco lunch at local gem Fish Frenzy. My favorite way to enjoy their freshly caught fish and chips is aboard my kayak, pulled up to the restaurantâ??s doorstep in Sullivanâ??s Cove; the city view from the water is unbelievable.
Hobart by air proves equally enchanting. My first trip included a seaplane journey allowing for unparalleled views of the city, Bruny Island and the rugged green Tasmanian coastlines. A private helicopter tour adds the most dramatic vantage point of must-see historic Port Arthur, a historic penal colony turned open-air museum and UNESCO World Heritage site. Back on the ground, your private guide â?? and professional storyteller â?? will share the secrets of the prisonâ??s most infamous characters.
ULTIMATE DIVERSION
My wife, Linda, and I love to charter a private yacht or seaplane to Southwest National Park, another UNESCO World Heritage site containing many wilderness icons, including Western Arthur Range, Federation Peak, Precipitous Bluff and jagged coastlines cloaked in rainforest. Once there, enjoy a private boat trip to dramatic Bathurst Harbour, Tasmaniaâ??s virtually untouched marine reserve. For a more refined retreat, head to the Villa Howden, a tranquil ten-suite hideaway just outside Hobart. I delight in the Tower Suite for its extra indulgences and sweeping bay views.
ADELAIDE, SOUTH AUSTRALIA
The delightful city of Adelaide serves as the gateway to the extraordinary wildlife wonderland Kangaroo Island and the famed Barossa, McLaren and Clare Valley wine regions. Dubbed the â??20 Minute Cityâ? because everything is 20 minutes away, Adelaide is almost like a suburb â?? at least thatâ??s what I tell my friends. While this proximity proves undeniably convenient, the colonial-meets-modern style found in Adelaideâ??s city center is one of the reasons I delight in it. Spend a few days there and you will too. Iâ??d start with a rare, one-of-a-kind cultural experience at the Tandanya National Aboriginal Cultural Institute, where youâ??ll meet Aboriginal and Torres Straight Islander peoples. I often take friends to private performances where dramatically costumed dancers move to the mystical rhythms of the didgeridoo. Afterward, sit one-on-one with tribal members who share their incredible personal stories.
Most travelers are surprised to learn that Adelaide hosts ten major art festivals that offer countless under-the-radar discoveries. The streets come alive with performances, film screenings and other events from entertainment icons such as Isabella Rossellini and musician Femi Kuti. The private parties and galas surrounding these events are equally thrilling. VIP seating, private party access and invitation-only tickets are recommended to experience the best of everything.
I never miss the National Wine Centre of Australia, located on the edge of Adelaideâ??s gorgeous Botanical Gardens. Thereâ??s nothing like a tasting curated by your personal sommelier who guides you in crafting your own barrel. Top off the tour with a private hot-air balloon ride over the vineyard and dinner at the iconic Cellar Door, where regional foods, fresh fish and house-made delicacies make the culinary experience as bespoke as the wine.
A trip to Adelaide isnâ??t complete without an incredible vertical tasting of the Grange Hermitage blend, Australiaâ??s most famous wine, at the luxe Penfolds Magill Estate. Jim Carreker, the estate owner and a friend of mine, can arrange a personal introduction to top winemakers and exclusive access to private events. Continue vineyard hopping with my best-kept secret, a Barons of Barossa tour and tasting. The Barons are an exclusive fraternity of elite winemakers and influencers who will show you the region through their eyes. Adelaideâ??s eclectic culinary scene and bold international influence is a surefire impresser. I never miss a chance to eat at Peel Street, where brilliant chefs blend the simplicity of local ingredients with the robust flavors of the Middle East. Cantina Sociale features Spanish-influenced sharing plates with exclusive barrel-to-glass wine pairings from their cellar. Discover a style you love, and they will happily bottle it for you.
ULTIMATE DIVERSION
With its nearly untouched environment teeming with kangaroos, wallabies and fur seals, Kangaroo Island is a magical place you must experience for yourself. My most memorable adventure was tracking echidnas at Pelican Lagoon with Dr. Peggy Rismiller, an internationally renowned researcher. I often retreat to the indulgent Southern Ocean Lodge to relax in this secluded clifftop boutique offering stunning views through the expansive glass walls.
PERTH, WESTERN AUSTRALIA
Perthâ??s wonderfully remote access, luxurious laid-back beach style and culturally rich discoveries make it an urban gem on Australia west coast. Strolling through the neighborhoods, lined with stylish boutiques, bustling art districts and breathtaking waterfronts, you sense a tangible vibrancy in the air. After a day in the city, take in the coasts to the north and south by private helicopter or hot air balloon followed by an afternoon at one of the cityâ??s 19 beaches. Even if you donâ??t avail of a private surfing lesson, Cottlesloe Beachâ??s crystal-clear waters, impressive waves and relaxed cafes make it one of areaâ??s most stellar sand-fringed attractions.
Later, peruse the shops lining King Street, a European-style escape dotted with 20th-century architecture and couture fashion, with a personal shopper. Youâ??ll understand why itâ??s called the â??Paris End of Perthâ? with luxury offerings from Gucci to local star Melanie Greensmith.
You simply canâ??t overlook Fremantle, a beautiful historic seaside town set between the Indian Ocean and the Swan River, just a quick drive from Perthâ??s city center. Be sure to have a tour of the areaâ??s amazing museums and galleries arranged just for you. I recommend strolling along the bustling coastline for some impressive yacht-gazing before heading to the sand for a private Champagne picnic.
From there, enjoy a private yacht outing from Fremantle to Rottnest Island, a quaint escape just off Perthâ??s coast. Imagine 63 secluded beaches and some of the worldâ??s most translucent waters, which attract divers, surfers and sun worshipers alike. Tour the bays and lighthouses that line the shore with a private guide until the sun drops below the watery horizon, casting a colorful splash of color in the vast Australian skies.
It surprises people when I tell them that Australia is home to rare black truffles. For a decadent experience, arrange a private helicopter flight to the magnificent Wine & Truffle estate in Manjimup. Here, explore fertile rolling forests, hunting for what connoisseurs call black gold. Take in the tubersâ?? captivating musky aroma and youâ??ll see why theyâ??re a prized delicacy. After your pursuit, stop by their gourmet café for dreamlike triple cream truffle-infused brie or enjoy an exclusive after-hour class with their chefs.
ULTIMATE DIVERSION
If you fancy adventure, youâ??ll adore Perth. My first stop: north to Sal Salis to view whale sharks, the worldâ??s largest fish. Then itâ??s off to a True North luxury adventure cruise for a private tour to vibrant bays rarely seen by the public. To sample the regionâ??s famous wines, make your way south to bucolic Margaret River where a private sommelier can customize a tasting.
MELBOURNE, VICTORIA
Once you arrive, you will understand why Melbourne keeps getting awarded â??The Most Livable City in the World,â? especially if you love food like I do. Melbourneâ??s multicultural restaurant scene, with its progressive style and fresh ingredients, has attracted some impressive celebrity chef endeavors, including NOBU and Rockpool, Chef Neil Perryâ??s flagship restaurant. One of the leading innovators is star chef Andrew McConnell. You havenâ??t lived until you have tasted his degustation menu at Cutler & Co., his newest launch. Feast upon six heavenly courses, masterfully prepared and tendered with unique local ingredients. I dream about his Wagyu bresaola and Kingfish sashimi. Itâ??s a privilege to book a private cooking class with him and work side-by-side learning his techniques. Walk off your meal with a stroll along Port Phillip Bay, an unforgettable place many travelers miss.
As Melbourneâ??s cobbled laneways hide the best-kept culinary secrets, set aside time to purposely get lost. Every visit, I happen upon someplace new, innovative, unique and off the beaten guidebook path. I adore MoVida with its old-world-meets-new-world gourmet Spanish cuisine â?? fire-cooked paellas and slow-braised carrillera de buey, beef cheek â?? set in a dimly lit Australian pub. My latest discovery is Ginger Boy, famed chef Teage Ezardâ??s gourmet take on Asian street food, using fresh regional and seasonal ingredients.
Growing up in Australia I sought to attend the Australian Open, Aussie Rules Football games â??The Footyâ? and the Grand Prix. One of the most incredible experiences of my life was watching cars go full throttle around Albert Lake during a Formula One race. If racing isnâ??t your thing, challenge a local pro to a tennis match on the Australian Open Courts or enjoy insider access to air-conditioned box seats and VIP treatment at the world-famous Melbourne Cup horse races. The privileged views are the next best thing to being in the event.
My favorite retreat to end the day is the stylish Crown Towers overlooking the stunning Yarra River. The indulgent 31st-floor private villa is a secret haven for A-listers like Oprah and Tom Cruise. Live like a celebrity and enjoy a decadent chefâ??s tasting menu of top-shelf Australian cuisine from Rockpool served by your personal butler.
We invite you to take in all the paradoxical richness of Australia, from its bustling modern cities to its luxurious wilderness hideaways and more. Let us help you arrange a one-of-a-kind, top-shelf experience, based on Ian Swainâ??s recommendations, with an itinerary tailored exclusively to your interests.
ULTIMATE DIVERSION
Whatâ??s more heavenly than a private helicopter tour above Great Ocean Road, one of the worldâ??s most stunningly scenic drives? I remain in awe of the rugged cliffs above the Southern Ocean and landmarks like the 12 Apostles rock stacks, which rise majestically from the sea. Stop in Torquay to savor fresh-shucked oysters, fried prawns with finger limes and other delicacies at Scorched, a hidden gem on The Esplanade. Next stop: a sunset viewing of the Parade of Little Penguins to watch these tuxedo-clad creatures waddle up the golden sand at Phillips Island.