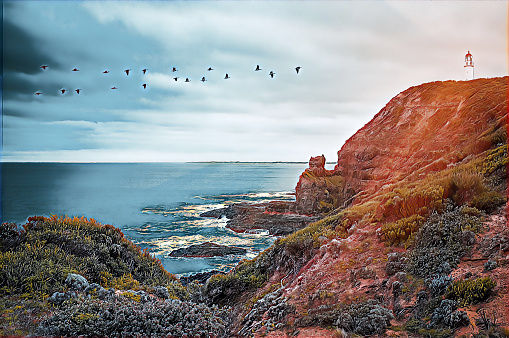 South Pacific, Australia, and New Island In Tonga
Now you see me, now you donâ??t, may be the title for the upcoming documentary of the island born of volcanic rock near Tonga in the South Pacific, just over 2,000 miles from Brisbane Australiaâ?¦ Contrary to popular opinion, scientists are confident that the island will soon erode back into the Pacific. The BBC ran a story recently of a Tonga hotelier (Gianpiero Orbassano) who brought his son and photographer friend with him to see the island first hand. Orbassona who arrived at the island by private boat claimed to feel the heat from the island floor as he stepped onto the large mass. Makes total sense as the island was formed by an underwater volcano that erupted off the coast of Tonga, an archipelago comprised of 177 islands, 36 of which are inhabited in the South Pacific just south of Samoa. Orbassano also mentioned that the island wreaked of sulfur, which is one of the three principle components of volcanic gas; the other two components are water vapor (H2O) and Carbon Dioxide (CO2). Here's some amazing raw footage of the actual eruption taking place:
Did you know that in addition to being an island, Tonga is actually a kingdom? It's actually the oldest not to mention LAST Polynesian monarchy in the South Pacific! In addition to that, they're the only Polynesian monarchy that hasn't (in their entire existence) been under foreign rule. The 177 islands that make up the archipelago is sprinkled between Fiji and Samoa. Fiji lies 1,300 miles northeast of New Zealand, and other than Tahiti, Fiji is one of the islands several tour operators provide as a stopover on the way to Australia from the United States. Several tour operators like Collette Vacations, Contiki Tours, Globus, G Adventures, Monograms, Tauck Tours, and Trafalgar Tours provide all sorts of packages varying from age groups, styles, and class of service. In addition to providing escorted Australia tours, there are independent packages including hotels, meals, and sightseeing. What differentiates escorted tours from independent is that there are tour guides or tour directors included from start to finish in the escorted tour price.
BEST TIME TO VISIT AUSTRALIA:
Best time to visit Australia is similar to South America, Seasons in Australia run totally opposite to that of the United States. Instead of their summer months being like ours (June, July, and August), their summer months are actually our winter months (December, January, & February), which is the best time to visit Australia. Australia's peak tourist time is during Australia's school summer holiday, which takes place between December & January.
BEST TIME TO PLAN FOR AUSTRALIA:
Best time to plan for Australia is as soon as rates become available for all travel components involved in trip! Most tour operators provide prices by September of every year, which means that if you're planning for a summer trip, you have nine (9) months to prepare; however, don't wait too long to secure space. Airfare is a VERY BIG factor when booking a trip to Australia, which means the earlier you secure space, the better rates can be. Most operators also provide limited time promotions or around the clock Early Payment Savings, Group Savings, or Triple Accommodation Savings.
BEST COURSE TO TAKE WHEN BOOKING YOUR TRIP TO AUSTRALIA:
Best course to take when booking your trip to Australia is to (hands down) book with a knowledgeable travel consultant! Due to all the overwhelming information the Internet has on Australia, it would be best to request the assistance of a travel professional to help you see it through... There are so many operators providing different itineraries, levels of service, and promotions, that you might miss out on the perfect trip. Knowledgeable travel consultants not only provide sound advice, they expertly qualify you so that they may accurately match you with the perfect trip. Best of all it won't cost you anything extra!