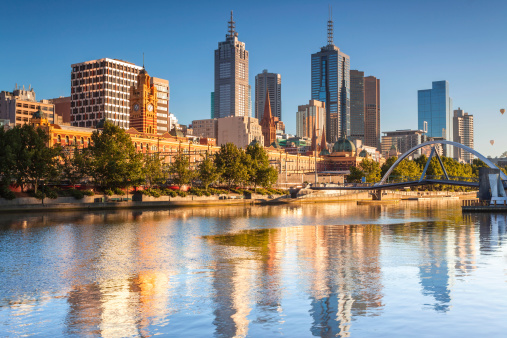 Different Ways of Seeing Australia
There are many different ways of seeing Australia. You can take a fully escorted tour, a completely independent tour, or a customized tour to your specifications, as well as a cruise/tour. For an escorted tour, we can look at the cream of the crop, Tauck's Grand Australia and New Zealand. This 20 day tour starts in Melbourne at the Langham Hotel for 2 nights. Tauck uses charter flights to get you around Australia and New Zealand so you'll be flying to Uluru and the Outback on Day 3. Sail in the Desert will be your home away from home at Ayers Rock. Next stop is the Silky Oaks Lodge on the Mossman River adjacent to Daintree National Park. A cruise to the Great Barrier Reef is included and an optional balloon ride, then on to Sydney with a stay at the Intercontinental and a "Foodie" city tour. New Zealand is next with a stop in Wellington, Te Anau, Queenstown and Auckland. If you prefer a shorter tour, you may want to consider "Spotlight on Austral, which is just 11 days beginning in Melbourne and ending in Sydney.
Collette Vacations is less pricey than Tauck and always a good value. They offer a 21 day tour called Outback to the Glaciers, a 27 day Complete South pacific, South Pacific Wonders, just 15 days and Exploring Australia, 18 days. They use less expensive hotels than Tauck to keep the cost down and the sightseeing will include more options.
Globus, also a less pricey alternative offers Down Under Discovery, 20 days, Great Adventure Down Under, 27 days, Highlights of the South Pacific, 17 days, Exploring Australia, 20 days, Australian Adventure, 19 days and South pacific Wonders for 26 days. Once again these fully escorted tours offer the 3 and 4 star hotels, with a bit less sightseeing and more options.
Monograms offers independent vacations that are planned out for you. The details are all made and the hotels are located in the heart of each city. You have hotel options to choose from and each city comes with a half day city tour. Monograms provides a local host at each hotel to offer recommendations and give local insights to help make the most of your independent vacation. Monograms Tours start with as short a stay as a 4 day Sydney Getaway, then a 9 day Great Barrier Reef and Sydney, the 10 day Australian Escape, the 9 day Journey Down Under, Best of Australia for 13 days, Wonders of Australia for 14 days, Aussie Adventure for 15 days. You can combine a 15 day Best of Australia and New Zealand with Monograms, as well. Trafalgar also offers escorted and independent Australia Tours, as well as mix and match mini stays for 2 to 7 days.
For a custom tour, you do the planning with our guidance, which will take you to as many cities as you want to see, as much sightseeing as you want to do, the category of hotel you wish to stay and the amount of days you wish to be away. We put it altogether for you, but it is your unique Australian Adventure.