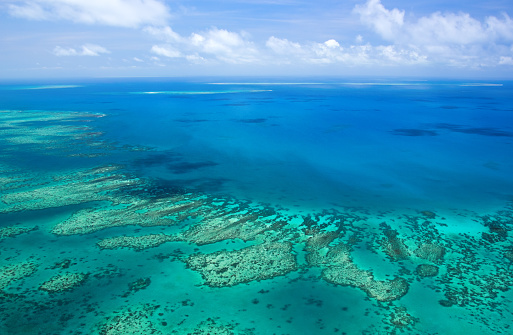 Great Barrier Reef and Other Sites In Australia
Australia has over 31,000 miles of coastline and 10,000 different beaches. Because this country is so unique it has many amazing sites. While the Sydney Opera House and Royal Exhibition Building are great things to see, there are some more natural sites that are amazing.
The Great Barrier Reef
This reef consists of more than 3,000 individual reef systems. It's absolutely astonishing to look at up close which is a huge reason why there are many different ways to see it in Australia. These include snorkeling, glass bottomed boats and scuba diving. Not only are the reefs and corals beautiful, but the amount of marine life that calls the Great Barrier Reef home is stunning, especially for the unsuspecting traveler. It's not surprising that the Great Barrier Reef is considered to be one of the 7 wonders of the natural world.
Whitsunday Islands
Located between the Great Barrier Reef and the northeast coast of Queensland, much of the the Whitsunday Islands are uninhabited. There are numerous white sandy beaches and hiking trails that can be found here. There's also a rainforest that's fairly dense. The mainland town, Arlie Beach, is a popular spot for tourists. There are numerous shops and restaurants located here that tourists can visit after spending some time exploring nature.
Uluru
This giant sandstone monolith is located around 280 miles from Alice Springs. However, it's worth the trip as it is located within the Uluru-Kata Tjuta National Park that features 36 different red-rock domes. Uluru, or Ayers Rock as it's known to the locals, is considered to be sacred.
Blue Mountains
Located in New South Wales, the Blue Mountains encompass a lot of different elements. There is a eucalyptus forest, sheer cliffs and dramatic waterfalls. There's also villages that surround it. To see an incredible view of the famous Three Sisters sandstone rock formation, Echo Point offers and amazing view.
Dandenong Ranges
These low mountain ranges are located only about 20 miles from Melbourne. They consist of a thick rainforest, large valleys and gullies and rolling hills. There are also a couple of waterfalls at Dandenong Ranges for visitors to explore and marvel at. Over 100,000 residents call the area home and it's a popular place for tourists to visit. To see the southern part of the area, many tourists hop on board the Puffing Billy Railway for a stream railway ride. There are vast gardens to explore and the entire area has sort of a mystical charm.