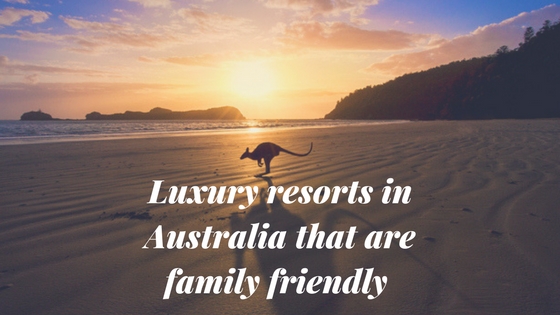 Luxury Resorts In Australia That Are Family Friendly
Just because you are traveling with children it doesn't mean that you have to sacrifice luxury. Australia has a number of family friendly luxury resorts. Here's where to stay if you are traveling to Australia with your children and want to skip the usual kid friendly resorts and opt for something more luxurious.
Capella Lodge
Located on Lord Howe, which is a Unesco World Heritage Site, the southernmost coral reef in the world can be found here. Guests often describe this resort as a small piece of paradise. It features accomodations on the beach so families don't have to walk very far to enjoy the water related activities. A favorite activity among both adults and kids is feeding the massive kingfish. In order to stay at the resort, children have to be at least ten years old.
Emirates One & Only Wolgan Valley
Located in the greater Blue Mountains, this resort is located within a 7,000 acre conservation area. This allows families to enjoy all of the wildlife such as the albino wallaroos, plus a number of outdoor activities such as horseback riding and bicycling. Onsite kids can also fly a kite or try archery. When adults need a break they can make arrangements with the resort to utilize their babysitting services and enjoy an adults only dinner or visit the spa. Children of all ages are welcome here.
Sal Salis
Those staying on Australia's western coast can enjoy this resort. It's a luxury tent camp that allows you to camp with your children without sacrificing too many amenities. Activities include swimming and snorkeling. Most of the activities are geared towards children that are at least five years old.
Southern Ocean Lodge
Children staying at this resort have to be at least ten years old. Located on Kangaroo Island, guests can see a variety of animals like sea lions, kangaroos and fur seals. Most of the activities here focus on being outdoors. These include sandboarding and kayaking.
Spicers Peak Lodge
Children of all ages are welcome at this resort. Families with kids under 12 must stay at the private lodges. Those with children over 12 can stay at the main lodge. No matter where you stay at the resort, it will more than meet your family's needs. Activities include bushwalks in the rainforest and biking.
The True North
This resort is very unique as it's considered a floating lodge. Children of all ages are welcome here, but most activities are geared towards adults. Wilderness cruises range from 7 to 13 nights. Guests will get to see waterfalls, gorges and various wildlife. There are no pools or children's activities on the ship, but there is an observation deck and large windows so that passengers can easily see the scenery that they are floating by.